January 1991: Lake Louise, Canadian Rockies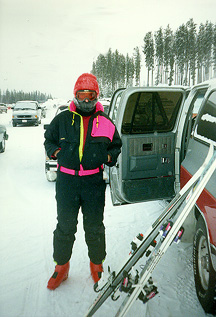 (It was a little cold up there!)
There wasn't much snow at Lake Tahoe in 1991, so we decided to head north. We skied one day at Mt. Bachelor in Bend, Oregon. Bachelor was icy, especially at the summit.
The first plan was to drive to Sun Valley, Idaho, where there was more snow than at Tahoe, but still not a lot. Then we looked at a map, and Lake Louise, BC, looked not much farther from Bend than the one day drive from San Francisco. It turned out to be a day and a half, including a beautiful late night border crossing into Canada from Cour d'Alene, Idaho, on snow covered roads. Driving on snow-packed roads is quiet and peaceful. We stopped for the night after crossing the border. Then on to Lake Louise in the morning.
The Chalet at Lake Louise is a large luxury hotel and famous as a destination resort. But just down the road from the Chalet we found the Deer Lodge, a beautifully rustic and very comfortable accommodation with a cozy restaurant specializing in game. We showed up without a reservation, and rooms were available.
Skiing at Lake Louise was great, but too cold! It was -2 degrees Fahrenheit, and wind chill of -20. One run was the limit. Then huddle in the lodge until our fingers thawed before making another. Again, I looked at the map. After two nights at the Deer Lodge, we checked out and headed toward Whistler/Blackcomb, near the coast north of Vancouver where the temperatures would be more agreeable.
The drive across British Columbia on snow covered highways was amazing. I kept expecting to come down out of the mountains, but it never happened. BC is solid mountains! That 1989 Suburban with winter tires took it in stride.I was a little worried about starting after those cold nights. Everyone in BC seems to have a block heater to plug in. That Spring, after returning to San Francisco, I had one installed. Alas, the Suburban was sold before we had a chance to use it.