My Summer Motorcycle Trip, 2001
---
Yearning to hit the road on my new Beemer, I agreed to meet my daughter Elyse and her husband Boris in Jackson, Wyoming, on the first of August when they emerged from six days of backpacking in the Grand Tetons. I decided to head out on Sunday, July 29. As usual, although I always try to avoid it, I was up late Saturday night packing and organizing, then awoke too early Sunday morning with only five hours sleep. I gave up trying to snooze about 9 AM and decided to get going.
For my first act, I wheeled the loaded K1200LT out of my garage onto the driveway and promptly dropped it on its right side. Listing at about 30 degrees and looking for all the world like a beached whale, it waited patiently while I rounded up a couple of neighbors to come and help me pick it up. I should be used to this by now. Virtually every bike I said I would never drop has been dropped. It's always a little depressing when it happens, but I'm getting better at shrugging it off. This time it took me about an hour to regain my confidence. Damage to the K1200 was minimal -- a couple of scratches on the protectors. Apparently BMW has designed for this, although the protector bars are hidden, not right out there like on a Harley dresser or a Gold Wing. Finally, at 11 AM I set off.
It was a slow day. I had hoped to make it to Coos Bay, Oregon, but with the late start and a meandering route through the Napa Valley and around Clear Lake before getting onto route 101 North, I was lucky to make it to Eureka with the cold and fog setting in about 8 PM. I found a cheap motel room and a decent restaurant for some dinner, then turned in for the night determined to get an early start on Monday morning.
---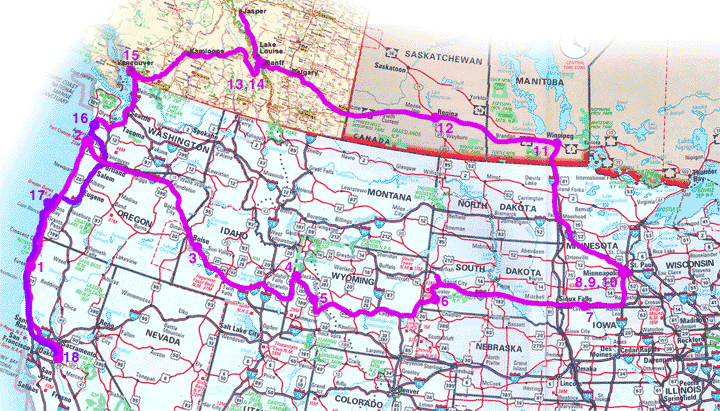 ---
Intense riding on Monday, up the entire Oregon coast to Astoria at the mouth of the Columbia River. It was dark and drizzly when I arrived, again about 8 PM. Beautiful ride, though. The last time I saw the coast of Oregon, at least the southern third of it, was during a car camping trip in 1973. I had forgotten how beautiful it is. Prettier than any coast of California, I think. So grandly scenic that memory really does not suffice. You just have to go there to appreciate it.
---
| | |
| --- | --- |
| Digital Imaging © Copyright 2002 PhotoDisc, Inc. | US 30 from Astoria to Portland runs slighly inland through wooded areas with little towns, simple homes and little view of the river. After passing through Portland, however, Interstate 84 along the south bank of the Columbia River to Boardman has to be one of the most scenic highways in the world. I didn't think my camera could do the Columbia River justice. Here's a stock photograph that captures some of it. Some day I need to go spend a month in Oregon. Going east, the banks of the river gradually progress from lushly wooded green mountains to sparsely vegetated desert tan hills. Then I-84 turns inland toward Pendleton and across the arid expanse of eastern Oregon before descending into Boise, Idaho. I spent the night in Boise with my friends Karen and Andy and for the first time met Tessa, the newest member of their growing young family. |
---
On Wednesday, August 1, I road from Boise to Jackson, Wyoming -- interstate highway, mostly. I arrived to check in at Motel 6 virtually simultaneously with Elyse and Boris, just down from hiking. No more than five minutes after I arrived, they pulled into the lot on their 1999 Gold Wing. Relatively early for me. Still daylight. There were quite a few Harley riders in Jackson, too -- all headed for Sturgis.

There were fires in the Tetons that week, widely reported, but near the town of Wilson, south of Teton Village where Elyse and Boris were hiking. We could still see smoke, although the fires were mostly contained.

I went for a jog, cleaned up, and we rode into town and enjoyed a good dinner. Jackson has moved upscale from the first time I was there, in 1973, and it seemed also since my brief visit in 1996. Just another expensive resort town with all the usual boutiques and money traps. Elyse rode back to the motel on the back of the K1200LT and reported that the passenger seat on the Gold Wing was more comfortable.

On Thursday, we did a short ride to Pinedale, Wyoming, where we stayed at the Pinedale Lodge on Pinedale Lake. We rented a canoe and kayak and paddled about for a while, rode to the far end of the lake -- about 10 miles and up 3000 feet in elevation -- to look over the Wind River Range where Boris spent five days solo backpacking two years before, then back to the lodge for a good dinner and a good night's rest.

It was a long ride on Friday across Wyoming. I got to test the antilock brakes on the Beemer when out of the corner of my eye I spotted a deer moving toward the road from the left. Boris and Elyse on the Gold Wing were ahead and didn't see it, but as I came to nearly a full stop, the deer crossed at 90 degrees to my path about three feet from my front wheel. The pickup coming toward us reacted similarly and also missed.

We skirted a few thunderstorms near the South Dakota line. I suited up in my new Aerostich, overgloves and all, but barely collected a few sprinkles before riding into Hot Springs, SD, to find our night's accomodations.
---
Most of the modern motels in Hot Springs were filled. Fortunately we found a room at the historic Braun Hotel, a quaint and comfortable old family-run operation. The room was air-conditioned, the restaurant was good, and the proprieters were friendly and talkative.

The next morning we rode north to Custer State Park, passing first through Wind Cave National Park and fields of prarie dogs between the two. In Custer State Park we passed the entrance to the Wildlife Loop and went a couple of miles north in order to stop at the Bluebell Lodge for breakfast. The rustic Bluebell Lodge is highly recommended for meals from morning to evening. Breakfast with buffalo sausage was every bit at good as I remembered it from 1996 when I camped at the Bluebell campground across the road with my friends from Boston during bike week.

After breakfast, we filled our tanks at the gas station, then back-tracked to the Wildlife Loop and rode around that to see the buffalo herds before heading north to Rapid City.

This was the first weekend of bike week, and there wasn't much activity yet in RC, so we rode west to Sturgis where festivities were well under way. We wandered around Sturgis for a couple of hours looking at the bikes, the shops, and the characters, bought a few T-shirts, then headed east on I-90. Stopping for dinner at Wall Drugs in Wall, South Dakota, we called ahead for reservations for the night but soon discovered that all rooms were sold out, at least anywhere we were able to think of calling in South Dakota. So we set out, hoping to simply stumble across an out-of-the-way motel with rooms available.

No such luck! The large numbers of bikers headed west to Sturgis had all the rooms. It was hot; over 100 degrees in the afternoon. Elsye was becoming progressively more miserable riding on the back of the Gold Wing. As the sun went down, it began to cool a bit, giving some relief. Even though all rooms were filled, many motels along the route had not posted no-vacancy signs. We held out hope and kept stopping to ask about vacancies until finally, giving up in frustration and fatigue at 2 AM, we stopped to crash at a rest area. We were now in southern Minnesota.
---



Are we having fun yet?

Elyse and Boris had shipped their backpacking equipment home from Jackson. So we made do with our motorcycle clothes and a couple of light blankets I had packed. We got at least a couple hours of restless sleep before awaking Sunday morning just in time to observe a hippie bus (Green Tortoise Line) that had landed in the parking lot. That looked like luxury travel to us.
---
Stopping for breakfast in Albert Lea, then pushing on, we arrived at la maison de Elyse and Boris in Minneapolis in mid-afternoon. Their puppy, Bela, who had been in the care of their friend Steepo, was very glad to see us.

I spent three days and nights with E and B in Minneapolis during which I had a chance to experience one of their favorite restaurants, attend a neighborhood block party, accompany Elyse and Bela to the Puppy Park along the Mississippi River where Bela raced about off leash tearing through the woods like a mad dog, and traded bikes with Boris for a beer run during which I had a chance to compare the 1999 Gold Wing 1500 to my K1200LT -- like a Cadillac to a Mercedes, only on two wheels.
---
On Wednesday, August 8, I was off, solo again, to the Great Plains. I went west to Fargo, North Dakota, then dodging thunderstorms north into Canada, to Winnepeg, Mannitoba. I suited up and rode in some rain, but avoided the worst of the storms, especially in Grand Forks where I stopped for gas. I heard on the radio later that Grand Forks had suffered severe damage from a storm no more than an hour after I passed through, so severe that the National Guard had been called out to help.
I had called ahead on Monday and made a reservation with the BMW dealer in Winnepeg, Wildwood Motorsports, to have my 6000-mile service done first thing Thursday morning. BMW motorcycle dealers are few and far between on the great plains -- much different from travelling on a Harley. On arrival in Winnepeg, I first located Wildwood Motor Sports, then found a hotel room about a quarter mile down the road.
In the morning, I signed my bike in for service at Wildwood, then walked a bit farther on to a pancake house for breakfast. Coming back an hour later, I found my K1200 still parked in the lot outside the service area, just where I had left it. So I stopped in to ask when the work, basically an oil change and some minor checks, would be completed. On the phone three days before, the manager had promised to have me in and out before noon. But now there seemed to be a problem: A locally owned Ducati had a malfunction that the shop had been trying to diagnose for two days, unsuccessfully so far, and I was told by the manager that my bike could not be serviced until work on the Duc was complete. When would this be? Impossible to say, but probably by the end of the day. I begged, cajoled, and pleaded my case as a traveller in transit, but to no avail. The manager -- the owner, I believe -- was adamant. No work on my BMW until the Ducati owner could be satisfied.
Finally, I concluded this guy was just an idiot, got my key, and left.
Heading west, the next BMW motorcycle dealer was a thousand miles away in Calgary, and another in Edmonton. The problem was, however, that I would arrive there on Saturday when the service departments were closed. Resigning myself to being very late with my scheduled maintenance, I made a reservation with the dealer in Vancouver, John Valk BMW, for the following Monday.

I rode to Regina, Saskatchewan, and stopped for the night, then on to Calgary on Friday. In these two days I discovered that the Great Plains of Canada are even greater than the Great Plains of the United States -- and proportionately more boring. Heading west from Moose Jaw after breakfast, I started to see some low hills, perhaps all of 50 feet in height, and got excited. False alarm! It soon got flat again and stayed that way pretty much all the way to Calgary.
---
Riding into Calgary about 6 PM, I was suitably unimpressed. Both Winnepeg and Regina appeared to be prettier and more interesting cities. From what I saw of Calgary, it was a bigger city but with a lot of non-descript poor and moderately rundown neighborhoods. I continued riding west toward Banff, arrived a little past 8 PM and had no difficulty finding a comfortable room for two nights near the center of town.

I had expected to see mountains before reaching Calgary. Surprisingly, the Rockies were not visible until the highway started to climb rapidly a few miles west of Calgary. Perhaps the view was obscured by all the smoke in the air from the many fires that were burning in the west that month.

Banff, Alberta, is a very pleasant, developed resort town. Much more affordable and less affected than Jackson, Wyoming, and many resorts like it in the US. Nonetheless, there are many comfortable hotels and motels, interesting shops, and good restaurants. The scenery of Banff National Park and the Canadian Rockies is dramatic without equal. Mountain peaks rise in grandeur all around the town.

I found an Irish Pub for drink and food, enjoyed the live music, and retired for a good night's rest.

Early the next morning I arose, and rode highway 93 through Banff and Jasper National Parks to the town of Jasper, about 200 miles north from Banff. The road is good. It is 200 miles over which the majestic mountain scenery never wanes, with new scenes of breathtaking beauty -- including craggy peaks, lakes, and a glacier -- around every bend in the highway.

I stopped for breakfast and wandered a bit at Lake Louise. It was interesting to see the Deer Lodge in Summer. I had stayed there once while skiing in the dead of Winter, 1990-91.
---
The town of Jasper is much more basic and simple than Banff or Lake Louise. Less of a luxury resort and more of a hikers' and outdoorsmen's jumping-off point, with a small collection of motels and restaurants. I didn't spend much time there -- stopped for gas and a candy bar, then headed back down the road to Banff. The ride was longer than I expected, and I wanted to get back to civilization before dark.

Here's just a sample of the scenery along Highway 93 in Banff and Jasper National Parks.
---
I found a good dinner and live music Saturday evening at Wild Bill's Saloon in Banff, and turned in early to rest for my ride to Vancouver.
Sunday started quietly. I took the road to Radium Hot Springs, very smoky air all along because of the fires. I found a little open-air restaurant in RHS and had a leisurely lunch, then headed north and west to Kamloops.
Vehicle traffic on the way to Kamloops was oppressive. There were a lot of motorcycles, however. I was particularly impressed with the number of early 1980s vintage Gold Wings, similar to my '82 GL1100, that I saw on the road touring. Frugal BC bikers are apparently not as enamored with Harleys as we are in the US and have discovered the virtual indestructability of old Hondas.
After Kamloops, the Coquihalla Tollway south toward Vancouver was even worse as far as traffic was concerned. Lots of weekend vacationers headed home. High-density and moving at very high speeds on what is basically a mountain autobahn. Not the most pleasant ride on a motorcycle. Also, keeping distance from other vehicles is the key to safety when riding a motorcycle, especially on fast-moving freeways. That was difficult, in fact impossible, on the Coquihalla. If I ever do that trip again, I would plan to ride that route midweek, and probably take the alternative road, Canada #1, at a more leisurely pace.
Approaching Vancouver, BC, in the evening, the traffic stream suddenly stopped. I spent the next four hours in stop-and-go mode -- more stop than go, unfortunately -- finally arriving in Vancouver after 10 PM, tired and cranky. I saw no evidence of accidents or any other reason for the slow traffic other than the sheer number of vehicles trying to make their way into the city.
I located John Valk BMW, then found a room at a Ramada Inn, on Broadway, a few blocks away. By then it was nearly midnight. The only place open for food was Denny's a few blocks down the street. So I resigned myself to a Denny's skillet for dinner after midnight. The waitress was a tall, pretty blonde. I fell in love. Or perhaps I was demented and vulnerable after my long day on the road and only thought I was in love. Like, a lot of good it was going to do me in Vancouver, BC. Returning to reality, I walked back up Broadway to the Ramada for a good night's sleep. I'm thinking, maybe I should eat at Denny's more often.
Dinky Seat
John Valk BMW got my bike in the shop right away the next morning. I walked a few blocks to Granville Island, a quaint area of shops and restaurants under a bridge, and got some breakfast at a little coffee shop. Then I walked to the Ramada, packed up, checked out, and walked back to John Valk BMW about noontime. My bike was done, just as promised. BMW needs more dealers like this one.
I got to talking with John and volunteered that I was happy with my K1200LT except for two things -- the lack of road pegs to vary my foot position during long rides, and the seat being a little uncomfortable with the result that my butt gets sore after a long day in the saddle. John offered some suggestions about the pegs that I didn't think would work for me, but admitted it was a problem. He told me about one K1200LT rider he knows who actually rides on the passenger pad to stretch his legs during long tours. That seems a little extreme to me.
John seemed surprised, though, by my complaint about the seat. He went to look at my bike, and then told me, "Well, there's the problem."
"What?" I asked.
He replied, "You have the 'US dinky seat' on your bike." Further explaining, "Here in Canada, this bike comes with the 'Canadian Manly Seat'."
"What are you talking about?" I asked.
John looked around. He didn't have a new K1200LT in stock at that moment. But he found a copy of the brochure for the K1200 and showed me a picture -- basically my bike, but with an apparently much more comfortable seat with additional padding clearly visible.
That was irritating. I bought the top-of-the-line BMW luxury touring motorcycle, and now I find that BMW not only equips this model in the US with a less comfortable seat than its competitors, but it's also a less comfortable seat than BMW sells on the same model in other markets. I have since learned that the padded seat was deleted in the US because of complaints about excessive seat height. It would be nice if BMW had provided the softer seat as an option at time of purchase for those of us who can tolerate the height and would appreciate the comfort.
---
On Monday afternoon I crossed back to the US after encountering a two hour delay at the border waiting to answer routine questions from US officials. This was before September 11, and the delay was apparently due solely to lack of adequate US staff at the crossing. There were a lot of testy US citizens returning from Canadian vacations stuck in this mess, and they made their feelings clearly known when I tried splitting lanes to get to the border station more quickly. So I just had to sit there and wait with the four-wheel traffic. Meanwhile, to add insult to injury, there were cross-border communters with passes constantly whizzing by in the express lane. If I were a terrorist or a smuggler, I would get one of those passes.
The delay at the border put me smack in the middle of rush hour traffic from Bellingham through Seattle and down to Tacoma, WA. It was stop and go for over 50 miles. What a lot of angry frustrated commuters there were in that mess! I was surprised. This was worse than any traffic jam I had ever seen in California.

After breaking free of the traffic, I headed west to the Olympic Peninsula. It was too late in the day to take the leisurely ride around the coast north of Olympia National Park. So I cut across to Aberdeen and found a room and dinner there before heading south the next morning. Along the way I saw a defunct pizza shop with this sign, which reminded me: there is a reason why businesses fail.
---
The Pacific Coast of Washington State, at least south from Aberdeen, was poor and not particularly pretty. I turned inland and rode north and east of the Columbia River before crossing into Oregon on I-5 at Portland. I had to hustle to make an appointment with an editor at Advanstar Communications' office in Eugene who was working on an article I had written for BioPharm magazine. After that, I grabbed a cup of coffee at Starbuck's and headed back to the coast, landing in a little motel in Coos Bay for the night.

I rode into town and found the Blue Heron restaurant in Coos Bay for dinner. The Blue Heron was excellent and I highly recommend it to travellers. The food is good, the staff is friendly, and the management makes a wide variety of current newspapers, magazines, and other reading materials available for single diners. Altogether a very civilized place.

Getting an early start Wednesday morning, I enjoyed the beautiful Oregon Coast once more, as well as the first few miles in California, down to Crescent City. After that, I rode hard down US 101, stopping for a quick dinner in Eureka, and finally after 18 days arriving home again at 10 PM, an hour or so later than would have otherwise been possible because of stop-and-go traffic on the San Rafael-Richmond bridge due to construction work.

The most beautiful parts of this trip were definitely the Columbia River, the Canadian Rockies in Banff and Jasper National Parks, and the Oregon Coast shown here in a photo taken while heading south from Coos Bay to toward California. I'm definitely going back to Oregon.
---
Return to index page